SCHOOL HOLIDAY WORKSHOPS
School Holidays here at Casula Powerhouse are a place for experimentation, exploration, and curiosity. Join in the fun and keep the kids engaged during the holidays. Our line-up for the next school holidays will be announced soon but below is an example of what to expect .
---
KinderGarden encourages understanding of the natural world through making. You and your pre-schooler will explore elements of the natural world, through our garden and create an artwork in response.
Date: 12 April 2022
Time: 9.30am
Ages: Suitable for ages 2-5
Cost: $15
---
The Clay Club
Squash it, shape it, roll it, break it, join it, and create with it! The Clay Club is a 2 day workshop with a focus on fun for kids interested in hands on learning, sculpture and clay.
Date: 12 April + 22 April
Time: 10.30am - 3.30pm
Ages: Suitable for ages 6 - 9
Cost: $160
---
Animators Workshop
This workshop is all about the magic of animation. Participants will combine drawing, sculpture and stop-motion to create original animations. The Animation Workshop runs over two days and is suitable for kids with an interest in a hands on learning and creative problem solving.

Date: 21 April
Time: 11.30am - 3.30pm
Ages: Suitable for ages 10+
Cost: $60
---
Holiday Kindercraften
Holiday KinderCraften is a creative playgroup where you join the creative exploration with your children and become inspired to make a take-home artwork through investigative art play.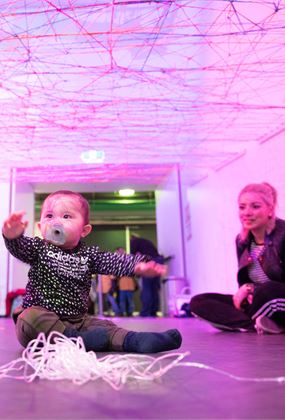 Date: 19April
Time: 9.30am
Ages: Suitable for ages 2 - 5
Cost: $15
---
Anime & Manga Drawing Workshop
The Anime and Manga workshop is a fun exploration of techniques and materials used to design characters and artwork in contemporary Japanese comics and animation.
Date: 13 April + 20 April
Time: 10.00am - 2.00pm
Ages: Suitable for ages 10+
Cost: $120
---
KINDERFUN WORKSHOP
Let your pre-schooler get creative with our exciting and free KinderFun workshop. Young children will decorate and create fun circus puppets, they can take home and enjoy hours of imaginary play. This workshop will run alongside our free circus workshop for older children so come join us in the April school holidays.
Date: 13 April 2022
Time: 2:30PM - 3:30PM
Ages: Suitable for ages 2-5
Cost: Free, bookings essential